Stencil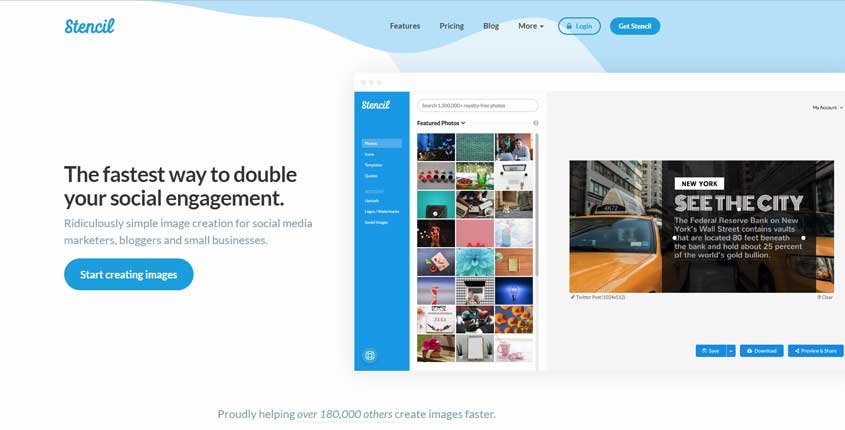 ---
What is Stencil?
Stencil is an easy-to-use online graphic design tool and image editor. This is mainly built for business owners, social media marketers, and bloggers. It comes with royalty-free images, icons and graphics, web fonts and thousands of ready to use templates. It's a great tool for creating infographics.
How To Use Stencil? (Features)
Beautification Tool – Stencil goes beyond changing or refreshing an image but adds the possibility to get the most beautiful aspects of it by using special filters.
High-Resolution Downloads – stop worrying about losing the quality of your images when you download them. With this tool, you will be able to do it at 300dpi per print and still keep the high-quality.
Preview before sharing – You will not get surprises after you share your image because you will have the option to preview the image and advance and make all the changes you need before publishing it.
Store and organize – You can create several files to organize your work. Create a favorite file and customize many other files to keep them well classified and easy to access.
Facebook Ad Grid – Never miss the right measures for your work when trying to publish on Facebook. That is because this includes a tool to instantly see if they fit this platform.
Direct access to Stencil – Add the Chrome extension, Safari extension or Firefox Add-on to get direct access to this tool
Quotes searcher – Get access to more than 100,000 texts of quotes to add to your images.
Upload your own images – You can upload your own images and combine them with Stencil images.
Share to Social Networks – You can send your images straight to the social network without having to download them on different devices or files.
Pros (Advantages)
The image resizing tool works instantly and works for all social networks, banners, ads, and blogs requirements.
New royalty-free photos are added every week.
You can use any of the Google fonts available which include more 250,000 options.
Cons (Disadvantages)
It is necessary to have a Buffer account to be able to share images with social networks from Stencil.
The resize of an image for every social media has to be done one by one. It is not possible to do it all at once.
There is a limit of 10 images per month on the free plan.
How Does Stencil Work? (Conclusion)
It was just about time that a tool like Stencil would appear in the market. In fact, they have been around us for a while but they have been growing with the market. This amazing platform has been growing along with the new image trends and has also been able to keep the pace in smart ways. It seems that nothing is left behind. It is perfect for beginners and advanced level too.
How Much It Costs? (Pricing)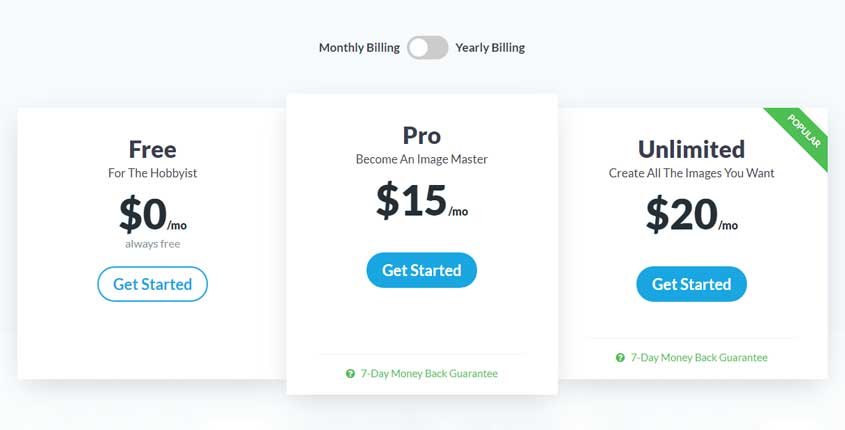 Try It Now!
---
Best Paid & Free Alternatives (Similar Tools)
Image & Infographics Tools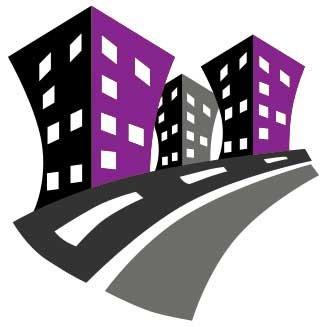 Behind SEMPlaza is a team of SEM specialists working hard to put together one of the best internet marketing tools directory. Additionally they offer free search engine marketing tips and strategies in all digital marketing fields: SEO, PPC advertising, social media marketing, email & push marketing, retail & affiliate marketing.

Posted on: January 19, 2020