turboSMTP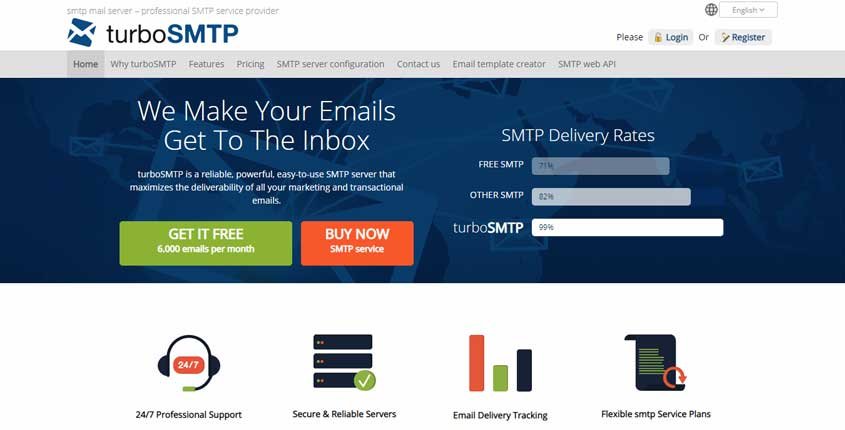 ---
What is turboSMTP?
turboSMTP is a professional SMTP service provider that allows you to send promotional and transactional emails with increased deliverability. It is compatible with all major email clients and also provides an SMTP API.
How To Use turboSMTP? (Features)
Real-Time Click and Open Tracking – This extremely useful feature allows you to determine at what time your recipients have either clicked on your links or opened your emails. This gives you complete control over determining the users' interactions with your messages and keep track of them.
Compatible with All Major Clients – turboSMTP is compatible with both free email software available online and professional tools like; Windows Mail, Mozilla Thunderbird, etc. and provides the same service regardless of the type of platform used.
High-Speed Delivery – turboSMTP's dedicated host ensures that all the emails are transferred as fast as possible from anywhere, anytime.
Reliable Servers with ISP Relationships – turboSMTP's whitelisted servers help deliver your emails as fast as possible, thanks to the software's close communication with top ISPs. This service also provides DKIM certification.
Bounce, Spam and Unsubscribe Management – Handle all spam complaints, hard and soft bounces, and delete unsubscribed accounts.
Sub-Account System – The sub-account system allows you to either resell your relays to your customers or split them among your team.
No Bandwidth Caps – There is no limit on data transfer, all the newsletters will be sent using the whole band by turboSMTP.
24/7 Multi-Language Customer Support – A team of dedicated professionals provides 24/7 customer support in multiple languages.
Pros (Advantages)
Flexible Service Plans – It provides a very flexible range of plans for you to choose from.
Step by Step Tutorials – A series of detailed step by step tutorial videos are provided by this tool for the ease of new customers.
100% Money-Back Guarantee – turboSMTP gives its new customers a 15-day satisfaction guarantee. A full refund will be granted if the user cancels the subscription within the first fifteen days or until the user has sent 100 messages.
Cons (Disadvantages)
Unreliable Tech Support – Despite having amazing 24-hour customer support, a number of users are not satisfied with turboSMTP's tech support and claim to be ignored when in dire need of technical help.
Send Speed Needs Improvement – It has been noticed that the send speed of emails is a little slow, it could be improved.
No Incoming Email Support – There is no incoming email support using the turboSMTP software.
How Does turboSMTP Work? (Conclusion)
turboSMTP is an economical and fast SMTP service provider which offers quite a good amount of features in terms of the plans it has for you to choose from. If you want to be recognized as reputable by all email servers and boost your delivery speed, turboSMTP is the right software for you.
How Much It Costs? (Pricing)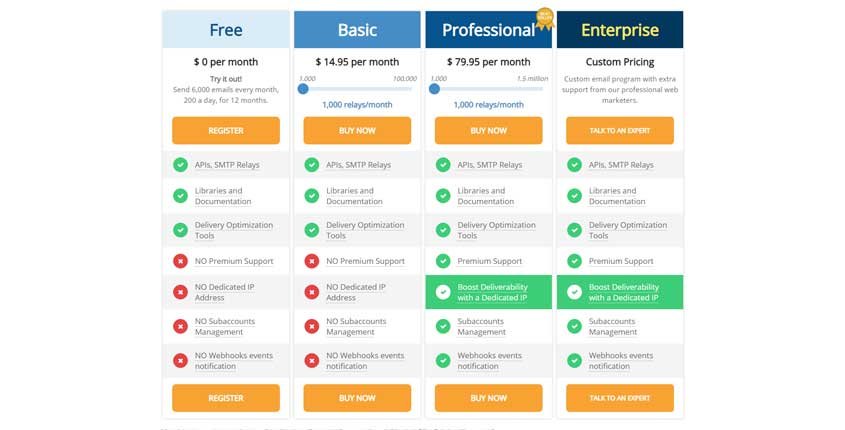 Try It Now!
---
Best Paid & Free Alternatives (Similar Tools)
Help your team get a lot more done each day. Say goodbye to wasted time!

Recommended by SEMPlaza as the Best Employee Time-Tracking Tool in 2023.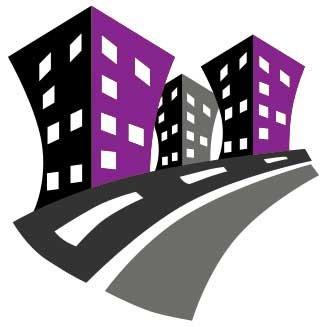 Behind SEMPlaza is a team of SEM specialists working hard to put together one of the best internet marketing tools directory. Additionally they offer free search engine marketing tips and strategies in all digital marketing fields: SEO, PPC advertising, social media marketing, email & push marketing, retail & affiliate marketing.

Posted on: January 14, 2020