TinyURL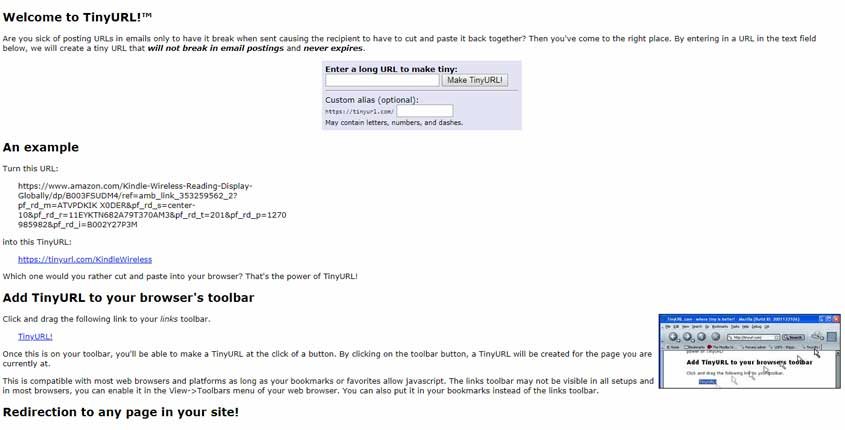 ---
What is TinyURL?
TinyURL you can create a tiny URL that will never expire and will be really short so it does not break the design of your emails. You can redirect the generated short URL to any page of your website.
How To Use TinyURL? (Features)
Platform and synchronization – TinyURL works on any device such as a tablet, laptop, computer, or smartphone to form a condensed URL as it is web-based. However, it might be difficult to use the toolbar feature due to the different nature of device technologies.
Compared to similar apps – It doesn't require any account creation or sign up procedure although the designer asks for donations. Moreover, you can make as many miniature URLs as you want.
Pricing and license – It's free to use. The monetary fund helps to pay for this service and it is reliable on donations.
Customization – TinyURL allows its users to make custom aliases. Although the URLs are randomly generated from the system, you can also add words on your own and customize it. This gives a personal appearance to URLs which can be useful for brand and marketing purposes.
Toolbar – TinyURL has a toolbar that allows you to generate short links from the current webpage.
Anonymous to use – This tool cares about your privacy so it allows you to use it anonymously. Information about your links and their popularity are totally anonymous.
Pros (Advantages)
Link analytics – TinyURL has a very amazing feature called the Link tracking feature. This feature allows you to track the number of users who have clicked the shortened link, their geographic location, etc. It enables you to check the popularity of the link.
Never expires and easy to use – Valid for a long time till the service remains up and these URLs never expire. Moreover, it is easy to use.
Bookmarklet – It can be used with a bookmarklet.
Cons (Disadvantages)
Blocking – Some shortened links are not accepted by social media platforms. For example, Wikipedia doesn't accept these links. Yahoo automatically blocks those post that contains shortened links.
Virus – Some malicious computer users take advantage of TinyURL and distribute them to dangerous sites that are loaded with the virus. This may damage your computer.
Deadlink – If the shortening service for the URL is discontinued, then the link will stop working.
How Does TinyURL Work? (Conclusion)
Every web service has pros and cons but it depends on us how we use it. TinyURL is one of the best online URL shortening services that is very simple and easy to use. You can add your own words in the shortened link through customization which makes it more attractive and appealing to the audience. You should definitely give it a try.
How Much It Costs? (Pricing)
This tool is free to use.
Try It Now!
---
Best Paid & Free Alternatives (Similar Tools)
Help your team get a lot more done each day. Say goodbye to wasted time!

Recommended by SEMPlaza as the Best Employee Time-Tracking Tool in 2023.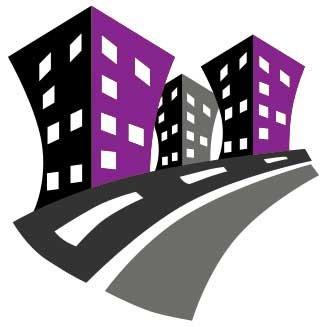 Behind SEMPlaza is a team of SEM specialists working hard to put together one of the best internet marketing tools directory. Additionally they offer free search engine marketing tips and strategies in all digital marketing fields: SEO, PPC advertising, social media marketing, email & push marketing, retail & affiliate marketing.

Posted on: December 28, 2019