Sendgrid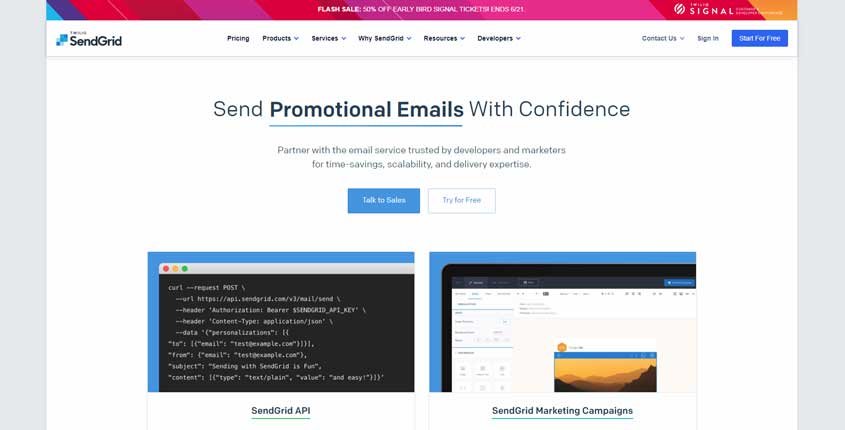 ---
What is Sendgrid?
Sendgrid is a cloud-based email delivery platform that helps email marketers to send their transactional and marketing emails with confidence. It is ideal for sending bulk emails and the API integration is very easy.
How To Use Sendgrid? (Features)
Reports – This tool can provide extensive reports including requests of unsubscribing, spam reports, bounces, blocks, bounce drops, spam report drops, unsubscribe drops, invalid emails, global stats, category stats, category comparison, sub-user stats, sub-user comparison, geographical, email clients and devices, mailbox provider stats, mailbox provider comparison, browser stats, and browser comparison, etc.
Campaign Management – It provides the user with its services to manage their campaign by acting as the email campaign manager.
White labeling – If you want to hide the fact that you are using the services of 'Sendgrid', you can easily remove their tag and place your own.
Template, Layout, and Design – Sendgrid provides templates for newsletters and emails. There are over 15 templates provided, therefore promising variety to the users. The email templates are made so much that the display will be aesthetic and readable on different devices. You can also design your own templates.
Automation – This feature automatically sends prior made emails based on data provided by the user. These can be recurring or sent on special occasions or dates, e.g. due to a discount offer or on the email receivers' birthday.
Pros (Advantages)
You can stay updated about your reputation by using their dashboard which updates daily.
It provides A/B testing.
You can create 'group types' of emails that you send, so that if the client chooses to unsubscribe he/she can choose the type of emails to unsubscribe from.
This tool provides inexpensive packages and is very budget-friendly. It also provides you with many free plans. You get 40 emails when you sign up and 100 every other day.
Cons (Disadvantages)
Although it is useful to create your templates they are limited to very few features.
The automation sequences are inconvenient since they require to configure your contact list twice.
Their customer service can be a bit frustrating since they give very late replies.
The user interface can be a little bit challenging and requires some getting used to. They also use very light-colored text in their dashboard making it hard to read.
How Does Sendgrid Work? (Conclusion)
This tool is perfect for any campaign as it makes sure that the email you send is not received as spam and neither is its IP blocked and if it does get blocked, you are given another IP without any issue. With Sendgrid you can expect the best results.
How Much It Costs? (Pricing)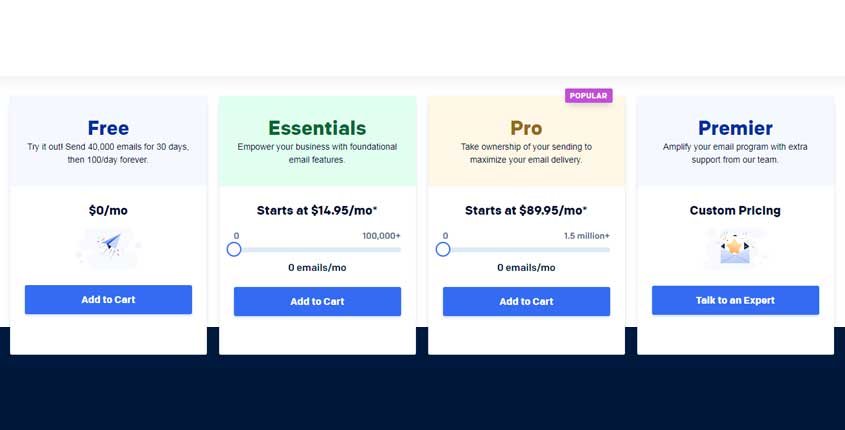 Try It Now!
---
Best Paid & Free Alternatives (Similar Tools)
Help your team get a lot more done each day. Say goodbye to wasted time!

Recommended by SEMPlaza as the Best Employee Time-Tracking Tool in 2023.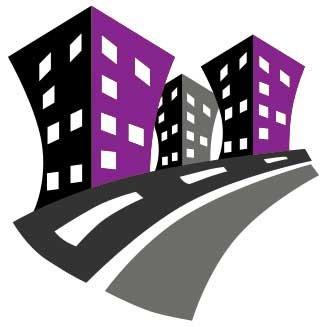 Behind SEMPlaza is a team of SEM specialists working hard to put together one of the best internet marketing tools directory. Additionally they offer free search engine marketing tips and strategies in all digital marketing fields: SEO, PPC advertising, social media marketing, email & push marketing, retail & affiliate marketing.

Posted on: January 14, 2020