Promo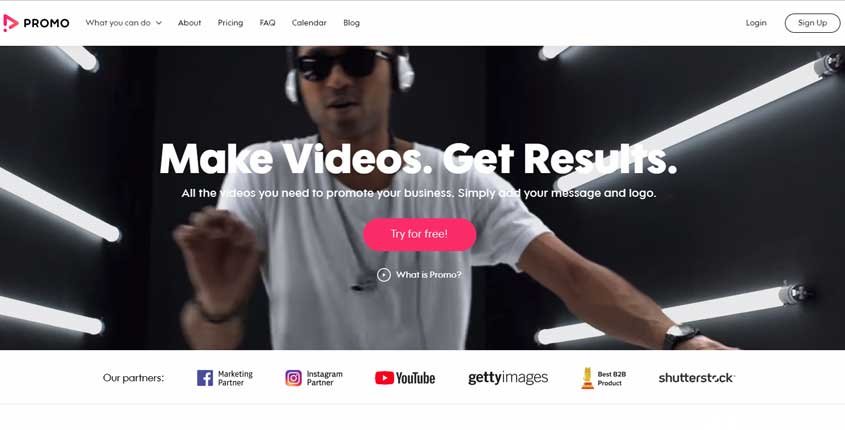 ---
What is Promo?
Promo is an online marketing video maker that allows you to create professional video ads in minutes. The service gives you ready-made video templates, high-quality footage, fully-licensed music, a built-in editor and free image tools so you can create stunning marketing visuals to promote anything.
How To Use Promo? (Features)
User-Friendly – Promo is highly easy to use, anyone could make a professional-looking video with no trouble and if one does get stumped Promo also provides their users with full-time customer support. Their staff can help with any query you might have which makes you comfortable and relaxed while working with this tool.
Available Templates – The user can edit videos from a provided library of 12 million clips along with the option to upload their own videos. There is no limit to the type of videos one can make, there is content for any type of social media and any purpose that one may require a video, marketing, advertisements, introduction, etc.
Downloading, Editing & Exporting Video – The user can edit a video or image in whichever size they may like vertical, horizontal, square or banner. The videos can be downloaded in MP4 format while the quality depends upon the user's subscription plan, that is, 720p for Basic and Special Holiday Plans while 1080p for Pro Plan subscribers.
Multiple Fonts Available – It provides multiple fonts to the user; multiple languages can be typed although a few symbols aren't available in a few fonts other fonts do provide them.
Pros (Advantages)
The video can be posted and used as the customer wishes once the file has been downloaded, Promo has no right over it. There will be no watermark on the downloaded video.
Upon signing up the user is asked about their business for which they require content after which Promo suggests videos from the library with regard to the specific business.
The provided customer service is available all the time and has a quick response to the customers' problems.
This tool keeps improving where it lags based on the feedback that it receives from customers.
The user can upload their own audio, video, and images to use and edit them as well.
Cons (Disadvantages)
Only after the subscription can a video be downloaded.
Although the subscription rates are on the high end, the result is worth it.
The videos given are professionally made so there is a limit to how much you can edit and change the content which can be frustrating sometimes.
How Does Promo Work? (Conclusion)
Promo offers the user an opportunity to promote their business in the most contemporary way possible easily without any nuisance of having to hire a professional. It provides videos by professionals and helps the user make original content with respect to their individual needs.
How Much It Costs? (Pricing)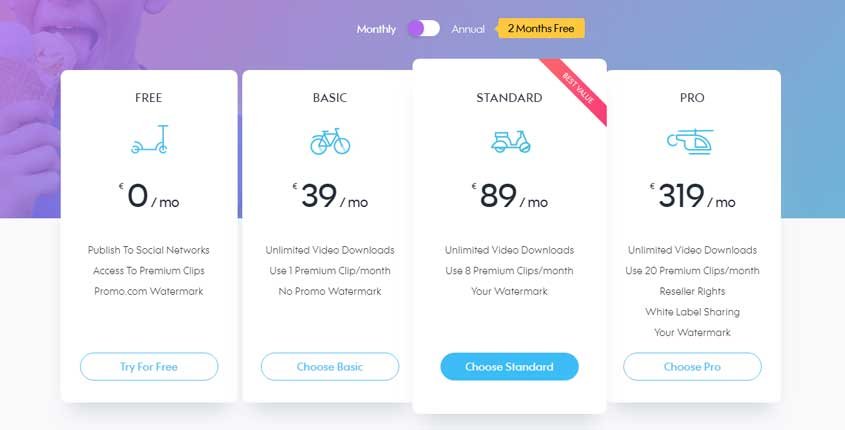 Try It Now!
---
Best Paid & Free Alternatives (Similar Tools)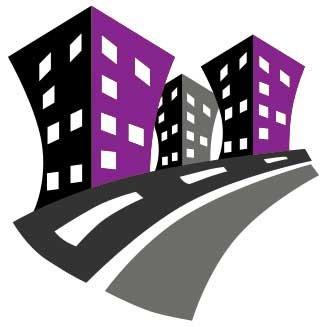 Behind SEMPlaza is a team of SEM specialists working hard to put together one of the best internet marketing tools directory. Additionally they offer free search engine marketing tips and strategies in all digital marketing fields: SEO, PPC advertising, social media marketing, email & push marketing, retail & affiliate marketing.

Posted on: January 19, 2020