Feedback Express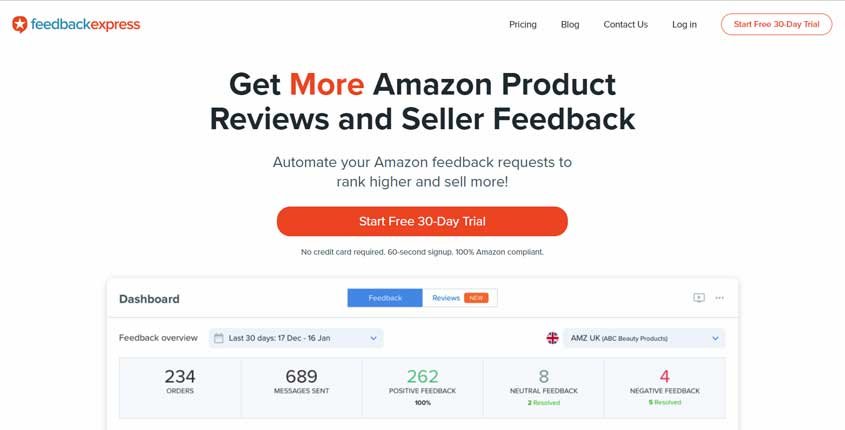 ---
What is Feedback Express?
Feedback Express is a platform that allows you to automate your Amazon feedback and review requests to get more seller feedbacks and more product reviews and rank your products higher in the Amazon search engine.
How To Use Feedback Express? (Features)
Email Templates – These provide you with a basic email and all the points you might need to cover through the email that is, Customer Service, Seller Feedback or Product review with spaces left to be filled with links to the respective pages required by the customer to fill in a response.
Phone Alerts – When a customer leaves a response the user will get a phone alert informing him of the response and whether it is positive or negative, through this the seller can easily react accordingly and improve the customer's experience.
Seller Feedback – The feedback you get through FeedbackExpress can be checked, as it shows you all the responses and also shows which of those is a result of the emails sent by you.
Email Filters – This feature helps the seller filter who gets the email, e.g. you may choose if the delivery period is too long or if the buyer has already left feedback not to send the email. You may even choose at what time of day and after the order is confirmed, dispatched or delivered the email will be delivered to the buyer. Depending upon the requirement of the seller that is; seller feedback, customer service, product review.
Blacklisting – Customers who leave a negative review can be blacklisted that is a follow-up email will not be sent to them.
Payment Plan – The FeedbackExpress has a specific plan with respect to each user's needs.
Multiple Marketplaces – It supports 10 Amazon marketplaces.
Pros (Advantages)
It can help the seller get higher feedback responses thus increasing sales by gaining the customers' trust. It can boost the seller's product sales.
It provides on-time alerts to the seller thus helping the seller improve the customer's experience with ease.
It also helps the seller see which emails from them are doing well and getting responses, are being opened or are causing unsubscriptions.
Customers are automatically thanked for their positive feedback by Feedback Express while asking for a product review at the same time.
Cons (Disadvantages)
You can't send multiple emails in the same email category.
Some of the users reported small issues with the platform.
How Does Feedback Express Work? (Conclusion)
Feedback Express offers sellers to boost their sales by asking their buyers for feedback as well as product reviews. Positive and negative feedback is tracked thus helping the seller blacklist negative reviews. To get a higher seller rating and thus getting more product visibility and winning the buy box Feedback Express is the solution.
How Much It Costs? (Pricing)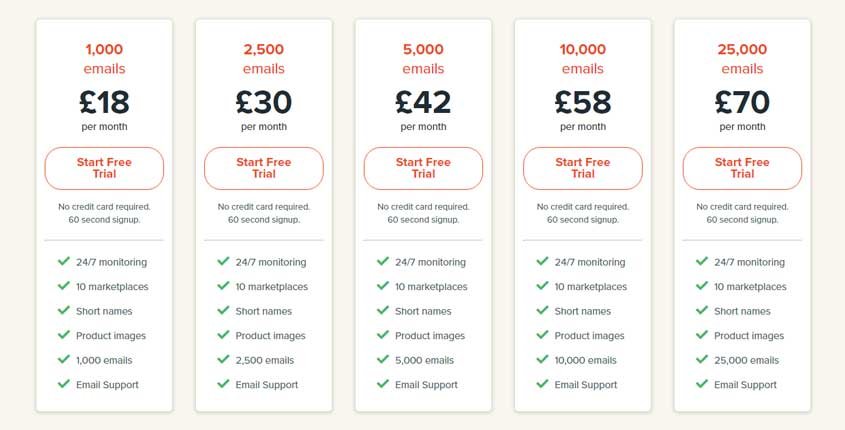 Try It Now!
---
Best Paid & Free Alternatives (Similar Tools)
Everything you need to sell on Amazon and become a top seller.
A suite of tools helping you with product research, keywords tracking & research, listing analyzer & optimizer, sponsored ads management, & more.

Recommended by SEMPlaza as the Best Amazon Tool in 2023.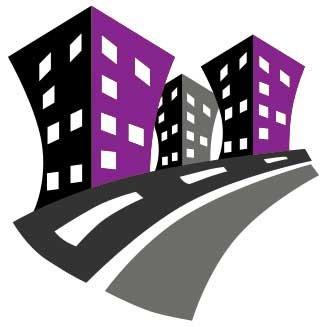 Behind SEMPlaza is a team of SEM specialists working hard to put together one of the best internet marketing tools directory. Additionally they offer free search engine marketing tips and strategies in all digital marketing fields: SEO, PPC advertising, social media marketing, email & push marketing, retail & affiliate marketing.

Posted on: January 5, 2020