Drip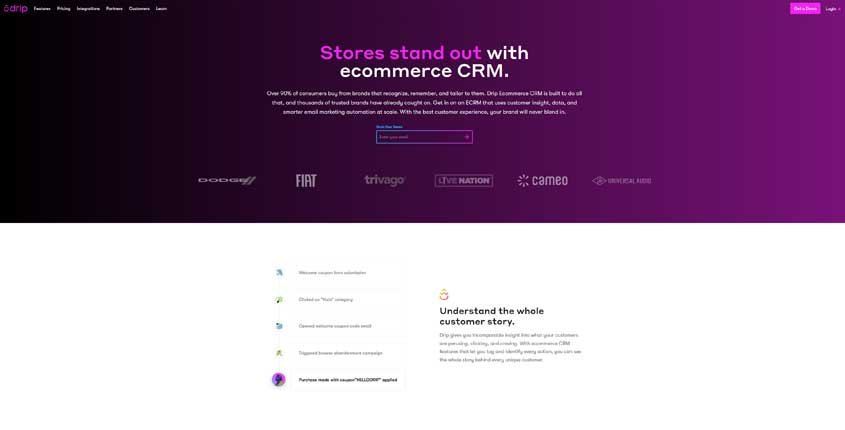 ---
What is Drip?
Drip is a marketing e-commerce CRM platform designed for building personal and profitable relationships with your customers at scale. It allows you to use data and marketing automation to build personalized marketing experiences and engage your audience.
How To Use Drip? (Features)
Integration – You're able to link Shopify and other eCommerce solutions to your drip accounts.
Visual Application – With their visual workflow builder you can fashion the journey of your customer with triggers and corresponding actions.
Automation – Its automated process will help you from stressing out of sending the messages by yourself.
Web-based – As it is web-based so you don't need a download to work on your PC.
Easy Implementation – You can save your time and energy while changing platforms.
Flexible API – You can pull in or push out data to your other tools wherever you need. Moreover, for better marketing, you can build any campaign that collects and uses key data.
Event Tracking – Simply assigning tags to each customer you can track them and their histories with your company.
Custom Fields – You can maintain unique data for each subscriber. It helps you to create personalized campaigns.
Multi-Channel Marketing – You can market through social media, landing pages for your websites, text messages and even through postcards.
Drip.js – If you wish you can have a powerful Javascript library for your website.
Liquid Templating – You can have conditional blocks or you can set a custom attribute.
Pros (Advantages)
User Interface – Its UI is logical and so easy to interact with. You can have anything you want to get done fast.
Shareable workflows – You can import pre-built automation into your account which will save you a lot of time.
A free plan – One of the best things about DRIP is that it offers a free plan with all the features for the first 1000 recipients. It helps the new users a lot to figure out the path of accomplishment of their goals.
Cons (Disadvantages)
Buggy Automation – When setting up new workflows, the new settings take uncertain time to show effect. So, if you send tests for new automation it is hard to tell whether the test is running under new or old settings.
Customer Service Concerns – Their customer service is time-consuming. With their growing reputation, the support crew doesn't match at all.
A/B testing – Its functionality is so basic and makes it hard to A/B test the contents inside of emails.
How Does Drip Work? (Conclusion)
Drip is a well-designed and easy to use CRM tool that also includes very effective email marketing capabilities. It is not just a platform to send emails, advance usages of DRIP can make it an automation powerhouse to run your business.
How Much It Costs? (Pricing)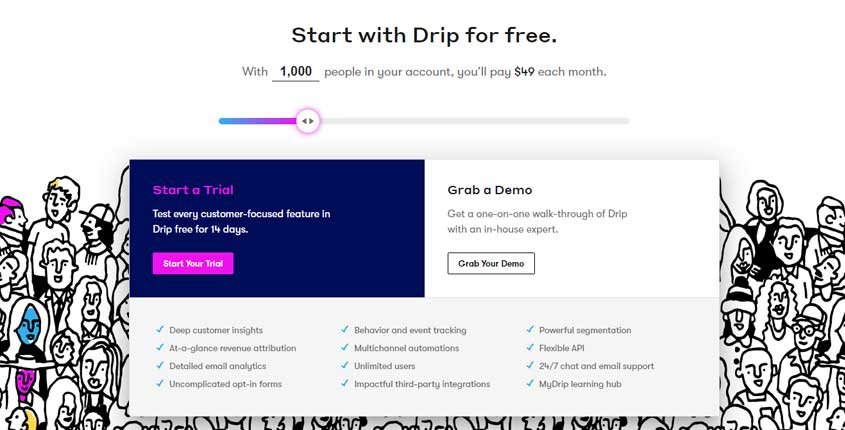 Try It Now!
---
Best Paid & Free Alternatives (Similar Tools)
Help your team get a lot more done each day. Say goodbye to wasted time!

Recommended by SEMPlaza as the Best Employee Time-Tracking Tool in 2023.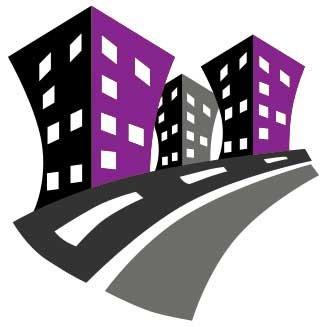 Behind SEMPlaza is a team of SEM specialists working hard to put together one of the best internet marketing tools directory. Additionally they offer free search engine marketing tips and strategies in all digital marketing fields: SEO, PPC advertising, social media marketing, email & push marketing, retail & affiliate marketing.

Posted on: January 11, 2020