Bitly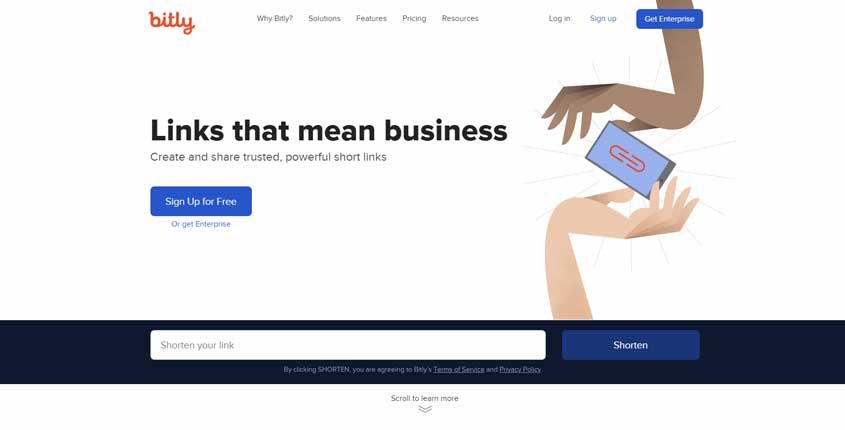 ---
What is Bitly?
Bitly is a very popular link shortening service. With it, you can make your links easier to remember and use when you have to add your links in places where the number of characters is limited. You can also brand your URLs to increase the trust when people are clicking in them.
How To Use Bitly? (Features)
URL Shortening tool – It can be used to make it easier for you to share lengthy links and make it easily accessible. You can keep these shortened links organized, or they can be tracked for future use with this platform.
Branded Links – They are the use of turning your links to bit.ly and eventually gaining 34% more traffic as brand name sells. You can edit the back-half of your link to give it a meaningful name to let your client know about it. You will get additional insights as to how and when your link is being used.
Mobile Links – They will direct your clients to the right place using communication. You can use customized SMS service for customer support, status update, changes, appointments, or brand promotions. You can use deep links within the mobile app to direct your clients to your desired page.
Campaign Management and Analytics – This allows you to analyze the progress of every link. The links can be reordered and tweaked to your liking. The sleek dashboard lets you keep track of every client's needs and provides an efficient reminder system. You can track organic shares to get an in-depth analysis of your content's performance.
Digital Marketing – It converts your clicks to potential clients. It integrates with popular platforms to propel your content. Unique user-based permissions allow you to communicate effectively.
Pros (Advantages)
Capture Points will let you know the information that keeps the real track of your customer's needs.
Public API lets you integrate third-party services into this platform to make your experience smoother.
Bitly Tools lets you add an extension to your browser for convenience. You can easily drag the bookmarklet to your bookmark's directory. Furthermore, you can easily integrate the WordPress plugin to your WordPress website.
Ongoing Support runs around the clock to help you get through any hassle faced on the platform.
Cons (Disadvantages)
Link Shortening Failure could mean taking the user through multiple redirects before allowing them to reach the intended website.
Less Customization of the shortened URL makes it annoying for the user at times.
UTM is not added to the mobile application which makes it a hassle for those wanting to use it on the go.
How Does Bitly Work? (Conclusion)
Bitly is a powerful platform to grow your online initiative. It efficiently tracks geographic information links and makes the links user-friendly. However, the high cost of the platform may make it undesirable for some customers. Some features can be upgraded to make for a revamped user experience.
How Much It Costs? (Pricing)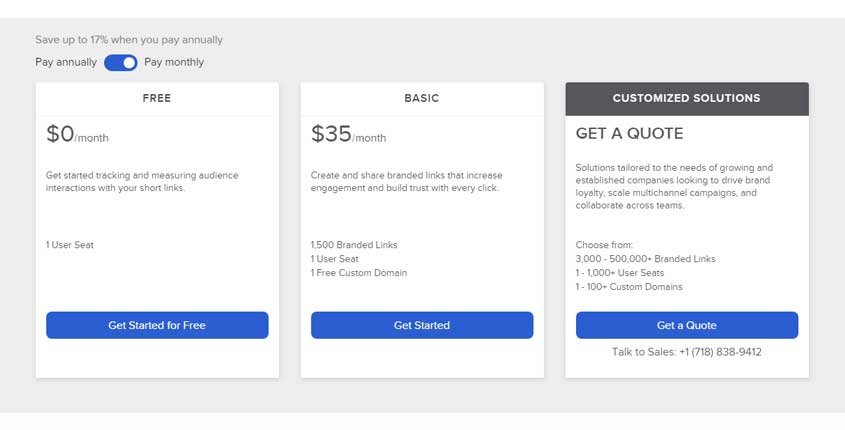 Try It Now!
---
Best Paid & Free Alternatives (Similar Tools)
Help your team get a lot more done each day. Say goodbye to wasted time!

Recommended by SEMPlaza as the Best Employee Time-Tracking Tool in 2023.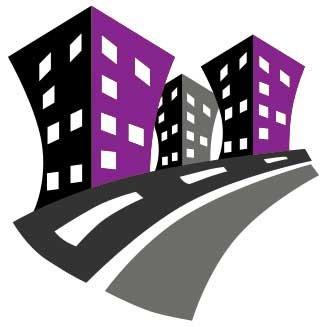 Behind SEMPlaza is a team of SEM specialists working hard to put together one of the best internet marketing tools directory. Additionally they offer free search engine marketing tips and strategies in all digital marketing fields: SEO, PPC advertising, social media marketing, email & push marketing, retail & affiliate marketing.

Posted on: December 28, 2019