Biteable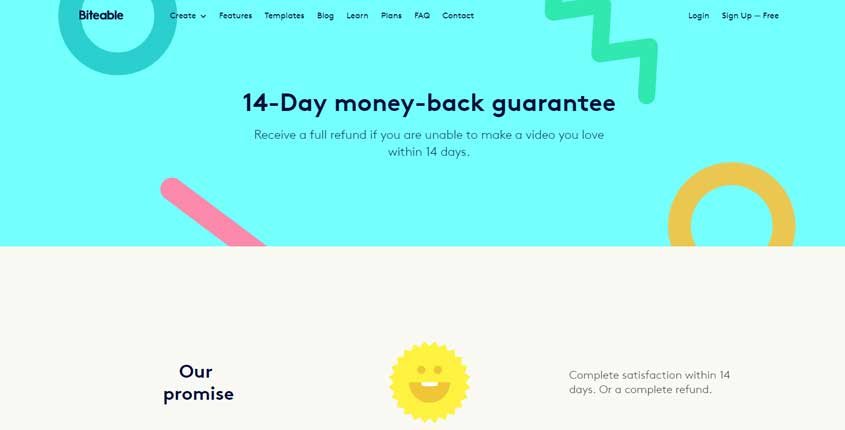 ---
What is Biteable?
Biteable is a video maker that can help you create stunning videos. You can start using one of the available templates, add real-life clips, quality animations, footages, and effects. You can also add a logo to brand the videos you are creating.
How To Use Biteable? (Features)
Social Media Sharing – One can directly share their masterpiece on social media such as Facebook, Instagram or YouTube.
Animation – This feature lets you upload your own videos, and photos while letting you improve them with the animation tool and by adding effects.
Customizable Branding – Premium users can create a customized brand intuition to extend their logo using their own logo.
Media Library – Your data is stored and protected in a media library that is easily accessible.
Templates – Already built-in templates help you with your creation if you are short on time.
Text Overlay – You can easily superimpose one or more text elements over a video stream. They can be of varying fonts and colors for better understating or explanation.
Pros (Advantages)
Free Trial/Version – The free trial lets you experiment with the software and after experimenting you may choose to pay. Free version saves you money and allows you to make unlimited videos with a watermark.
User-Friendly – It is super intuitive and easy to grasp. You don't need a crash course on it for usage.
Professional Quality – It offers high-quality videos and animations for premium users, working on the basis of predesigned templates.
Cons (Disadvantages)
Limited Functionality – There is a fixed number of templates and several other tools. For instance, you can pick a color scheme but cannot adjust the font or size on the clip.
Pause between Slides – All the timing of scenes is automatically set. It is quite a detractor due to giving a 4-5 second delay between the animated slides. This disables you to plan a time duration.
Customization – So many factors lessen the customization of the video, and in addition to that, videos are sent through a link one uses for their account.
How Does Biteable Work? (Conclusion)
Biteable might not be as quick as their tagline claims to be "make a video on your 30-minute lunch break" but still it is perfect for the right audience, for instance, beginner video creators who need something relatively advanced as compared to their skills. It is not costly at all if compared to professional video creation. The animations are creative, fancy and numerous. Biteable does exactly what you want it to. Sign up for a free trial and do wonders with your creativity and their algorithms.
How Much It Costs? (Pricing)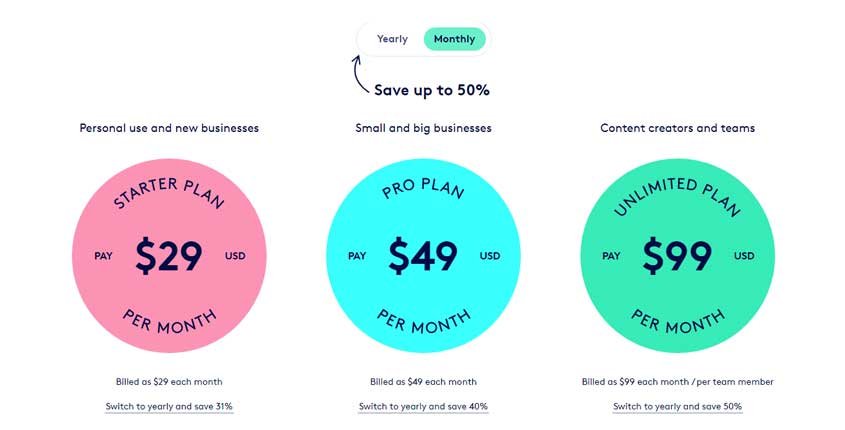 Try It Now!
---
Best Paid & Free Alternatives (Similar Tools)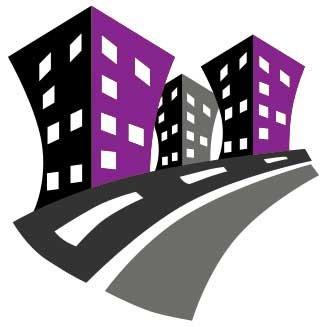 Behind SEMPlaza is a team of SEM specialists working hard to put together one of the best internet marketing tools directory. Additionally they offer free search engine marketing tips and strategies in all digital marketing fields: SEO, PPC advertising, social media marketing, email & push marketing, retail & affiliate marketing.

Posted on: January 19, 2020