Acelle Mail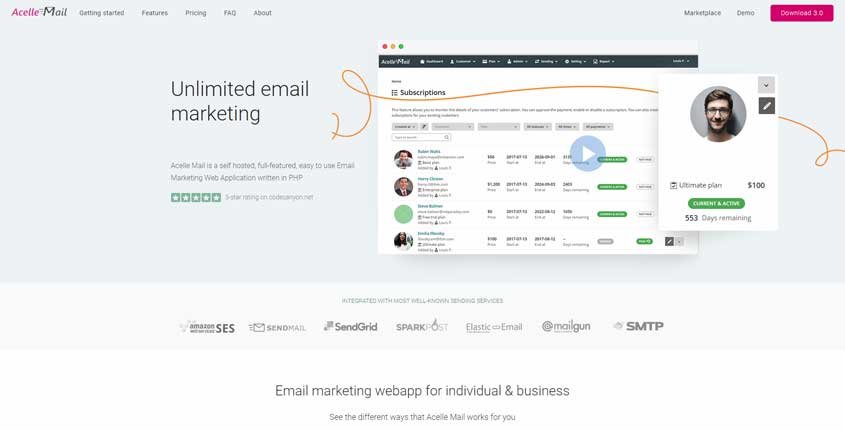 ---
What is Acelle Mail?
Acelle Mail is an email marketing application that has all the required features to allow you to handle all your email marketing campaigns. The software is written in PHP and can be self-hosted on your own server.
How To Use Acelle Mail? (Features)
E-mail Management – Acelle Mail gives you the ability to manage and import/export e-mail lists containing thousands of e-mails. With a single click, you can send, delete and sort the e-mails according to your needs.
E-mail Verification – Having trouble finding the odd one out? Are you sick of those spammy & fake e-mails? Acelle Mail ensures your e-mail lists are clean and validated at regular time intervals. The tool helps you maintain a reputable e-mail sending reputation.
E-mail Templates – Choose an e-mail template that best suits your business. There are different kinds of e-mail templates available. You can even create your own template by taking examples from the ones available.
Automation – Acelle Mail helps make scheduled campaigns, automate previous campaigns and edit old campaigns. You will never have to worry about making campaigns with this tool.
Upgrade Manager – All the live updates are delivered to you on the live dashboard of the platform. Without getting into the hassle of filling long set-ups, you can upgrade your web tool to future versions with a single click.
Tracking – A record of every click, open, bounce and complaint is kept in a database. You can easily track any engagement from your dashboard.
Pros (Advantages)
Customer Support – Their customer support is available 24/7 to help their users get the best out of the product. Any issue is resolved within 24 hours and an e-mail of solutions to similar issues is sent to the user in case he/she faces a similar problem in the future.
User Interface – The user experience is amazing. It has an interactive design that is very easy to use, understand and remember.
Flexibility – The web-app is quite flexible. The user does not need any professional-level technical knowledge to use the app.
Cons (Disadvantages)
Absence of Modern Features – Many users claim that the tool is great but it lacks many modern features like SMS text message sending and RSS e-mail sending.
Expensive – The tool is relatively over-priced than its rivals with similar features.
Bugs – Some users claimed to face bugs in their tool. This is because the tool is open source.
How Does Acelle Mail Work? (Conclusion)
Acelle Mail is packed with all the features you need in order to start your e-mail marketing. You should definitely get your hands on this tool. Deposit a one-time subscription fee and you are good to go. The tool updates on its own and continuously notifies you with all the new features! This email sending tool is a must-have for all the digital marketing agencies out there!
How Much It Costs? (Pricing)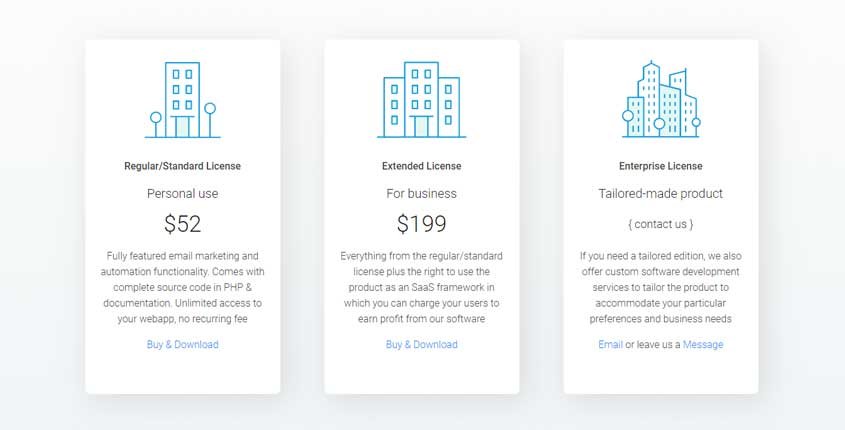 Try It Now!
---
Best Paid & Free Alternatives (Similar Tools)
Help your team get a lot more done each day. Say goodbye to wasted time!

Recommended by SEMPlaza as the Best Employee Time-Tracking Tool in 2023.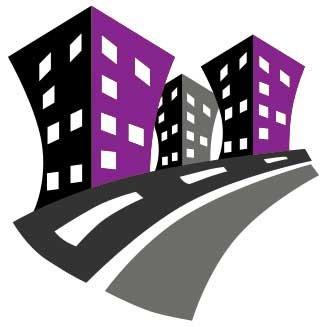 Behind SEMPlaza is a team of SEM specialists working hard to put together one of the best internet marketing tools directory. Additionally they offer free search engine marketing tips and strategies in all digital marketing fields: SEO, PPC advertising, social media marketing, email & push marketing, retail & affiliate marketing.

Posted on: January 11, 2020