Subscribers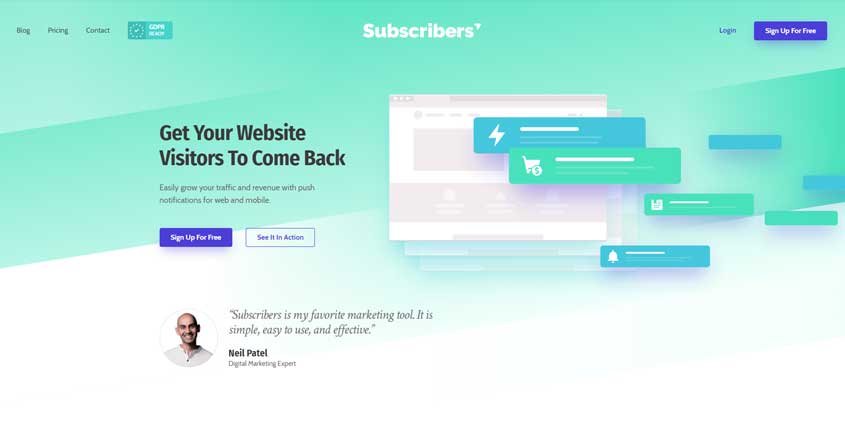 ---
What is Subscribers?
Subscribers is a service that allows you to send push notifications on desktop and mobile devices. You can customize the messages that are sent and you can also schedule them in advance. It's easy to install, setup, and use.
How To Use Subscribers? (Features)
Time zone Delivery – The tool allows you to choose among the different time zones of your customers. Therefore, your notifications can appear when they are more effective and visible. 
Schedule in Advance – You can schedule an entire plan and marketing campaign for in advance at different times and days. Be sure that your push notifications will appear when you schedule them.
Custom/On-Brand Push Notifications – You can select and add the design of your brand logo to the notifications and customize the images according to your marketing goals. 
Advertising-Free Notifications – Your customers receive push notifications without additional advertising or promos from other brands.  
Destination Control – You can select exactly where to place the call to action clicks for your customers.
Real-Time Analytics – Get full real-time analytics with all the graphics in one chart easy to read and understand. 
Custom Tracking Links – Customize your links and then get all the information you need to analyze your customer behaviors and answers to your marketing efforts. 
Powerful Segmentation Tools – You can segment your subscribers using different criteria such as type of device, browser, location, and more. 
Comparative tool – The Analytics feature includes side by side graphics that allow you to easily compare different marketing campaigns.
Smart Recommendations – This tool offers smart recommendations according to the results of the segmentation tools. They allow you to optimize your marketing efforts.  
Pros (Advantages)
Push notifications can be set for multiple devices including mobile phones, desktop, and laptops.
There is a permanent free subscription for small businesses.
Pricing for small and medium-sized businesses are very affordable.
Cons (Disadvantages)
The free subscription only covers up to 200 website subscribers and doesn't include advanced customer support.
Push notifications for the Safari browser are only available with the most expensive plan.
It doesn't deliver push notifications for the Microsoft Edge browser in mobile phones.
How Does Subscribers Work? (Conclusion)
These days the competition to attract customers' attention is fierce. That is why Subscribers push notifications system is so valuable. Once the customer shows its interest by allowing to receive them, he/she becomes an ideal target for your marketing efforts. Therefore, using an effective strategy that includes catchy images and texts is incredibly effective. The attention is guaranteed and you only have to make sure you deliver the proper message. In this sense, Subscribers help you improve their effectiveness through powerful analytics and segmentation features that are easy to use by marketers.
How Much It Costs? (Pricing)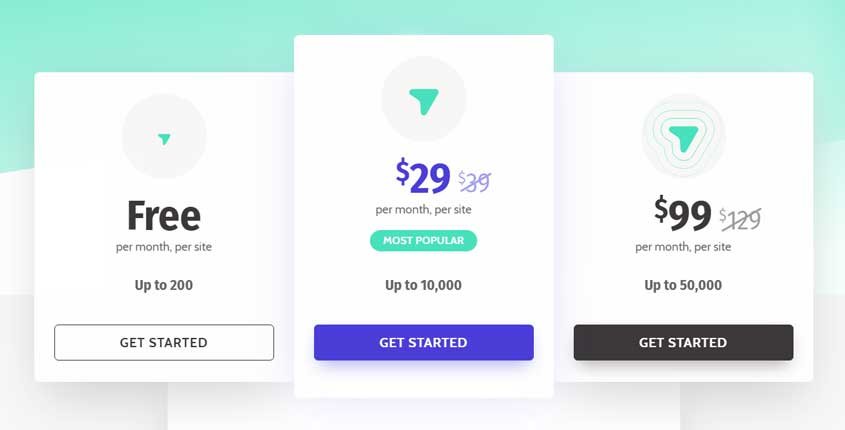 ---
Best Paid & Free Alternatives (Similar Tools)
Mobile & Web Push Notification Tools
Help your team get a lot more done each day. Say goodbye to wasted time!

Recommended by SEMPlaza as the Best Employee Time-Tracking Tool in 2023.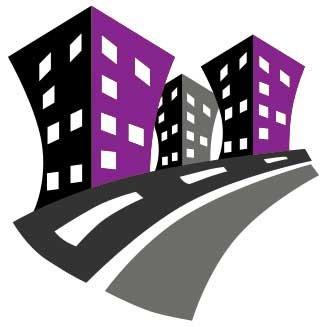 Behind SEMPlaza is a team of SEM specialists working hard to put together one of the best internet marketing tools directory. Additionally they offer free search engine marketing tips and strategies in all digital marketing fields: SEO, PPC advertising, social media marketing, email & push marketing, retail & affiliate marketing.

Posted on: December 30, 2019