SERP Counter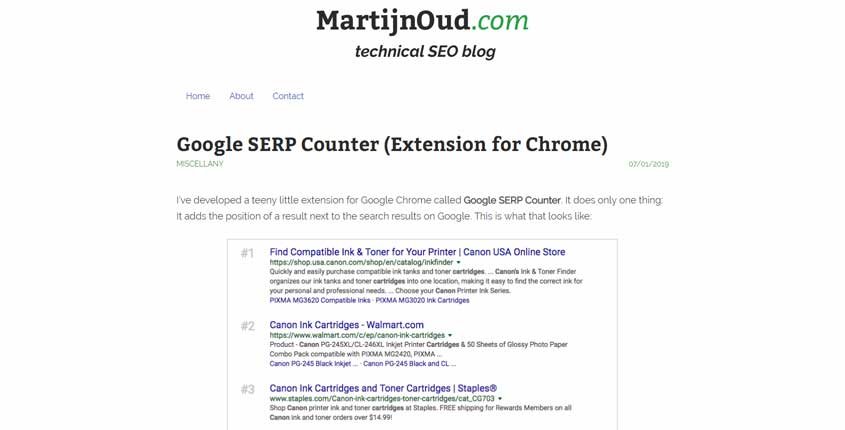 ---
What is SERP Counter?
SERP Counter adds the position number of search results directly on Google search engine results pages so you can easily spot the ranking position of your website.
How To Use SERP Counter? (Features)
Listing of results – An important feature of the SERP is the way how the search engine presents the results. The results are presented by the search engine to the counter-response to a keyword inquiry made by the searcher. Despite the other results of the query shown on the pages, the listing of the valuable and significant results is done successfully.
Keep track of old pages – Google's SERP counter provides its users with changing and varying results on the web pages. Not only this, this extension keeps the record of the previous pages visited by the user. It tracks this in order to present the correct count for its user. It also keeps the record of the former count using local storage.
Keeps count – By using this extension, there is no need for the user to count again. This extension does that for its user. This feature is mainly useful when examining the SERPs. With this, the user moves to the intermediate point by using the "Find" command.
Presents more results – The SERP counter tracks the ranking of the web pages. Other than this, it also has the ability to present to the searcher with the top 100 results in response to a specific target keyword inputted by the user.
Pros (Advantages)
Additional results – The extension can get up to the top 100 results. It can also get the top 50 or 20 depending on the preferences.
Eyes on competition – The strong and powerful rank tracker helps to keep a check on the competitors and the overall competition.
Advanced analytics – The analysis provided by the SERP is complete and thorough. This analysis is provided by the advanced analytics of the extension.
Cons (Disadvantages)
Limited search engines – SERP counter's can manifest it functions on a limited number of search engines not all.
Mobile rank tracking – Mobile rank tracking is not possible with the SERP counter.
Less Keyword – Despite having a thorough and extensive database, users might find smaller volume keywords.
How Does SERP Counter Work? (Conclusion)
Hence, the SERP Counter is a good extension for ranking the search results by adding counters to the results. This extension allows the user to learn about the position of the results on the search engine enabling them to choose the result with the highest counter. It makes a list of results, keeps tracks of old counter and previous pages and can present up to 100 top results. The analysis of the SERP provided by advanced analytics is comprehensive. The extension could provide its user with good results alongside with loads of benefits.
How Much It Costs? (Pricing)
SERP Counter browser extension is free to use.
---
Best Paid & Free Alternatives (Similar Tools)
Help your team get a lot more done each day. Say goodbye to wasted time!

Recommended by SEMPlaza as the Best Employee Time-Tracking Tool in 2021.

Behind SEMPlaza is a team of SEM specialists working hard to put together one of the best internet marketing tools directory. Additionally they offer free search engine marketing tips and strategies in all digital marketing fields: SEO, PPC advertising, social media marketing, email & push marketing, retail & afffiliate marketing.

Posted on: December 23, 2019