ProRank ProRank Tracker Review – Popular Keyword Rank Tracking SEO Tool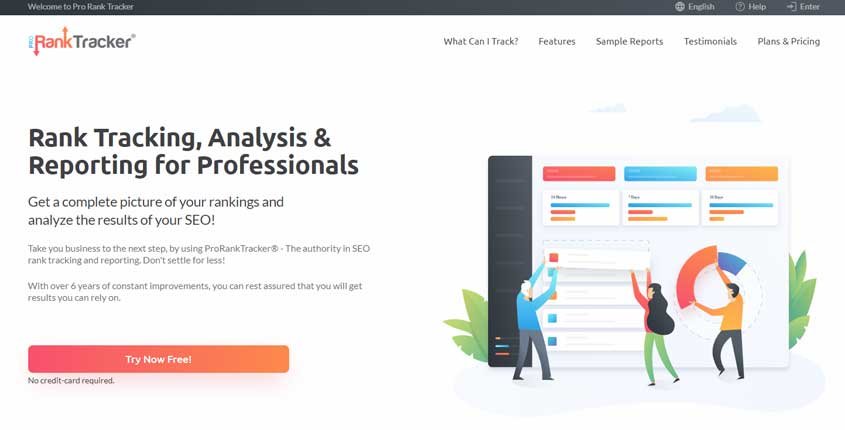 ---
What is ProRank Tracker?
ProRank Tracker is a very popular keyword rank tracking SEO tool that is used by tens of thousands of internet marketers, SEO gurus, digital marketing agencies, and companies doing business online.
How To Use ProRank Tracker? (Features)
High-Accuracy Algorithm – The results offered by the ProRankTracker tool are some of the most accurate, other rank-tracking tools being way behind it. The rankings show keywords positioned in the top 100 results.
Daily Updates and Updates on Demand – Not only that your keywords rankings are automatically updated and checked daily, but you can also have extra updates on demand, based on your paid plan.
Easy Web-Based Tracking – The tool is web-based and uses a cloud service, which gives you the possibility to access and use it from anywhere without having to download or install anything.
Multi-Language Support – ProRankTracker has a very user-friendly interface that can deliver the reports to you in multiple languages like English, Spanish, French, German, Italian, and Dutch.
Worldwide Recognition – The tool is used by internet marketers and businesses all over the world.
Rank Tracking – You can use this tool to check and analyze your keywords ranking in SERP for all your websites.
100% Accuracy – You can rely on the reports shown by this tool and analyze your SEO results much easier.
International Rank Tracking – ProRankTracker supports most of the popular search engines for all international domains and lets you track your keywords in any language set and from any location.
Desktop & Mobile Tracking – You can track your keywords on both organic desktop & mobile results.
Reporting – ProRank Tracker sends you reports via email in multiple formats (PDF, XLSX, and CSV). You decide if you want daily, weekly or monthly reports and analyze your work over a course of time. They also provide comparison reports of URLs based on different factors such as location, devices, etc.
Interface – The dashboard of this tool is very user-friendly and simple it requires you to type the desired keywords and URL which shows you the results in two very simple charts a visual layout (pie chart) and a data layout.  It also provides the user with the feature to add or remove filters, tags, etc.
Customer Help – ProRank Tracker keeps in mind that the user may be inexperienced and needs their help to get started. This is why they are providing the user with video tutorials, live chat, and an option to book a demo.
Pros (Advantages)
Packages – You are provided with a group of different packages all of these are very inexpensive. You can also opt for the free trial which is for a 7-day period.
Customer Support – Their customer support is very helpful and prompt with their replies they try to go the extra mile to meet your requirements.
Detailed reports – The reports provided by this tool have extensive details and suggest many search variants. It is very easy and quick to take information from it.
User Interface – The user interface has an amazing data representation allowing you to monitor multiple websites simultaneously.
Cons (Disadvantages)
Default View – The default view does not show the mobile rankings which makes it time-consuming.
Too Little Help – This tool offers very little that is only rank tracking. It doesn't do anything else which is why you would have to use multiple tools to do a full search engine optimization.
Few Tutorials – Video tutorials prove to be the best way to learn but ProRank Tracker does not provide tutorials for advanced features.
How Does ProRank Tracker Work? (Conclusion)
ProRank Tracker proves to be the best at what it does when you are selecting SEO tools for your website. The data is very easy to read and has extensive details. The reports are provided daily keeping you up-to-date about your search engine optimization. This tool can help your business grow bringing you revenue and customer traffic by increasing the rank of your website.
How Much It Costs? (Pricing)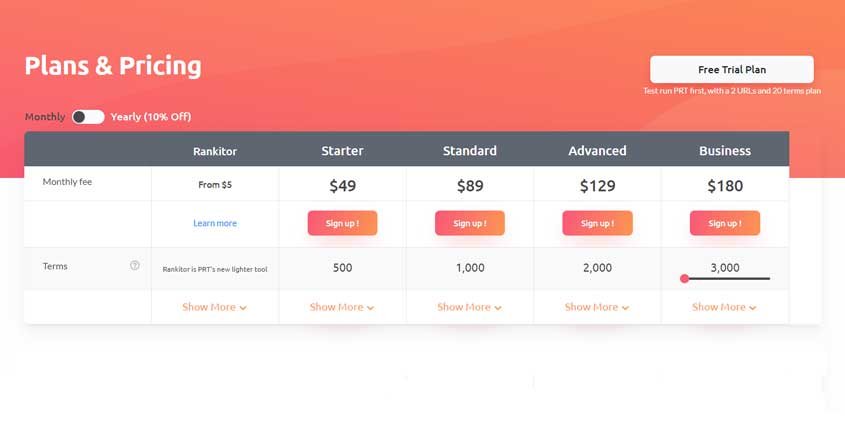 Try It Now!
---
Best Paid & Free Alternatives (Similar Tools)
Keyword SERP Rank Trackers
Use artificial intelligence to create content for your blog, social media, website, and more. It's fast & easy.

Recommended by SEMPlaza as the Best Content Optimization Tool in 2023.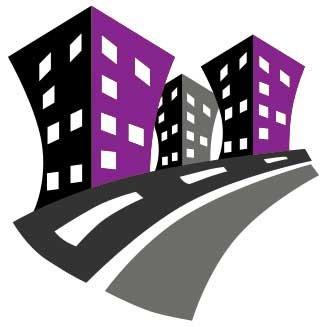 Behind SEMPlaza is a team of SEM specialists working hard to put together one of the best internet marketing tools directory. Additionally they offer free search engine marketing tips and strategies in all digital marketing fields: SEO, PPC advertising, social media marketing, email & push marketing, retail & affiliate marketing.

Posted on: December 1, 2019