Jasper Review – Start Writing Amazing Content Using Artificial Intelligence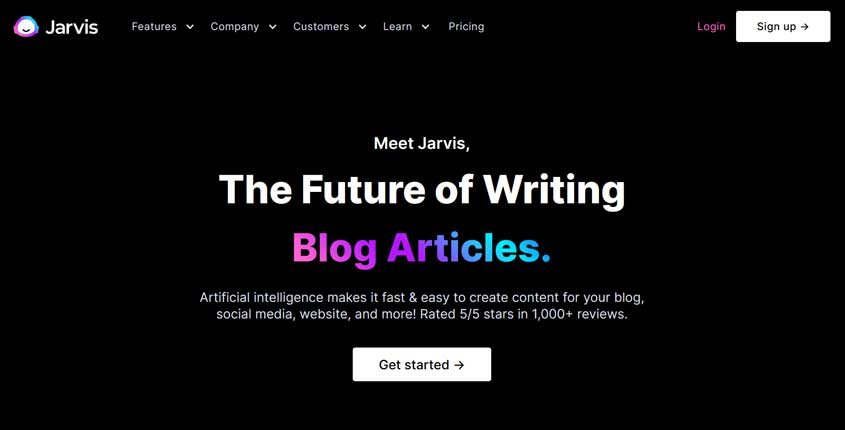 ---
What is Jasper?
Jasper formerly known as Jarvis AI is a tool that is using artificial intelligence to easily generate original and creative content. The world's best SEO and marketing experts taught Jasper how to write interesting articles, engaging social media posts, newsletters and sales emails, ad creatives, and more. All the generated content is top quality. You have over 50+ content templates and 25+ languages to choose from. This software helps you scale up content 5 times faster.
How To Use Jasper? (Features)
Write SEO-Optimized Content – You can generate blog articles that are SEO optimized, rich in keywords, and plagiarism-free, which will help you rank well on search engines.
Finish Drafts 5 Times Faster – Speed up your content writing by letting Jasper do up to 80% of the writing. That will only leave you to edit about 20%.
Boost Ad Conversions – Increase sales and improve your ROAS by writing and testing more variations of your ads.
Get Writing Ideas – If you are stuck and staring at a blank page, Jasper can write creative and original content for you, fast and easily.
Supports Multiple Languages – You can have your content clearly and creatively written in more than 25+ different languages.
Scale Up Content – Generate new content from your existing content.
Pros (Advantages)
It supports multiple languages and many of them have variants that you can choose from.
There is a 5 Days Free Trial available, so you can test the software before choosing the right plan.
You have a Demo to see how Jasper AI works.
There is a great help section on the site and many tutorials showing you how to use it. There is also live training and webinars with experts so you can learn from the best.
Cons (Disadvantages)
Most of the features you will need are available only in the "Boss Mode", which is more expensive. The Starter plan is only for short content like product descriptions, titles, headlines, tweets, etc. For extended content like blog posts, articles, and emails, you will need to pay for the Boss Mode.
A little expensive for individuals.
How Does Jasper Work? (Conclusion)
In conclusion, Jasper AI (previous Jarvis) will help you create content faster with artificial intelligence, so you don't have to spend so much time writing. It allows you to choose from over 15 writing skills that Jasper already knows. You also have over 50+ templates ready for different types of content, like product descriptions, stories, blog posts, personal and company bios, creative ads, SEO titles and meta descriptions, Amazon product features and descriptions, engaging questions and answers, social posts, interesting headlines, and many more. Jasper also has the ability to write in 25+ languages, which means you can use it to write even if you are not a native speaker of a specific language.
Frequently Asked Questions (FAQ)
Jasper (formerly known as Jarvis AI) is an Artificial Intelligence software that you can use to create original and quality content for your blog, social media, emails, website, and more.
Jasper generates top-quality content by using artificial intelligence. It can write for you no matter what type of content you need.
How well does Jasper AI work?
The content written using Jasper passes all plagiarism tests. It's 100% interesting and original writing.
The text generated with Jasper has no grammar mistakes or sentences that do not make any sense.
It's pretty inexpensive for even the most all-inclusive plans it offers. It's great for writing social media posts, SEO meta titles and descriptions, and things that require character limitations. If you're wondering whether you'll get value for your money with Jasper AI, the answer is "yes".
How Much It Costs? (Pricing)
Jasper AI has two pricing plans and also a 5-Days free trial. The Starter package starts from $29 a month which allows you a maximum of 20,000 words. The Boss Mode begins from $59 a month which allows you a maximum of 50,000 words. The price on both plans is increasing based on the number of words available. The Starter plan can have up to 1,000,000 words/month and the Boss Mode up to 5,000,000.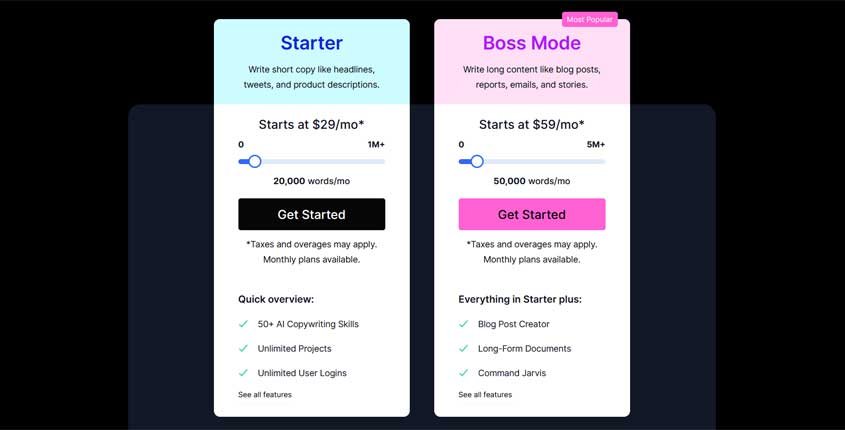 Try It Now!
---
Best Paid & Free Alternatives (Similar Tools)
Content Optimization Tools
Use artificial intelligence to create content for your blog, social media, website, and more. It's fast & easy.

Recommended by SEMPlaza as the Best Content Optimization Tool in 2023.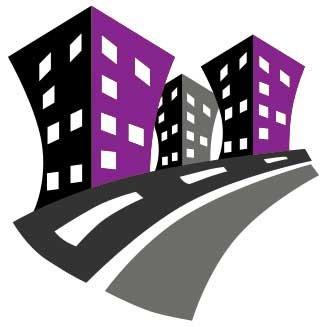 Behind SEMPlaza is a team of SEM specialists working hard to put together one of the best internet marketing tools directory. Additionally they offer free search engine marketing tips and strategies in all digital marketing fields: SEO, PPC advertising, social media marketing, email & push marketing, retail & affiliate marketing.

Posted on: January 17, 2022