CorrectEnglish Review – How to Become a Skilled Writer?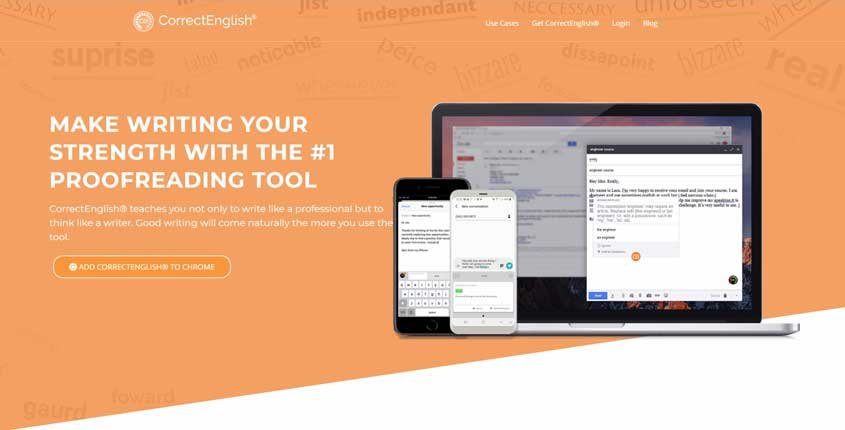 ---
What is CorrectEnglish?
CorrectEnglish is a tool for spelling and grammar checks that can help you become a skilled writer. It uses artificial intelligence to provide you with unparalleled insights into your writing's focus, organization, content, language use, and overall quality.
How To Use CorrectEnglish? (Features)
Spelling and Grammar Explanations – While checking spelling and grammar, you will automatically receive full explanations on why it is necessary to correct the text.
Comment and Collaboration – The platform offers shareable documents so you can share them to receive feedback and get comments about your texts from colleagues, supervisors, professors, and classmates, among others. As a result, you can get a final document fully revised and ready to publish.
Format Documents – Students can get access to APA and MLA formats so they can work faster and more efficiently to present their papers and research in the proper format.
Word Suggestions – You get word suggestions on the entire document or text you are working on.
ESL Errors – The program corrects the most common ESL errors so you can improve your writing abilities.
Plagiarism and Originality Check – You can get access to the premium plagiarism and originality tool.
Writing Templates – There are templates available that cover business letters, e-mails, resumes, social media posts, and others.
Multiplatform – You can access the tool from all browsers or iOS/Android apps, and multiple platforms, including tablets, PCs, and laptops.Advanced Writing Tools – Users can get advanced tools with machine learning and AI technology which allows them to improve and enhance their writing. They include Lexipedia and iseek.ai.
Pros (Advantages)
It offers a free plan for an unlimited time.
Supports corrections and explanations in 9 different languages.
Your texts are compared to more than 70k different advanced grammar rules.
Cons (Disadvantages)
Their free plan has limited features.
The plagiarism and originality feature is only offered with the most advanced plan.
You can only access it with an Internet signal.
How Does CorrectEnglish Work? (Conclusion)
To sum up, CorrectEnglish is one of the most useful tools in the market. Almost everybody has now to take care of correct writing because smartphones, social networks, and computers make us write for a variety of purposes. This is not only suitable for businesses, academic or commercial purposes but for everyone who wants to make sure that their writing skills are well presented in public.
How Much It Costs? (Pricing)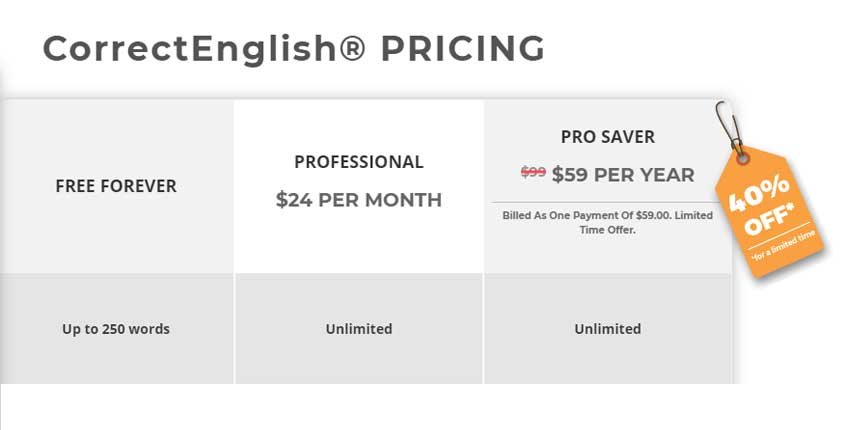 Try It Now!
---
Best Paid & Free Alternatives (Similar Tools)
Content Optimization Tools
Use artificial intelligence to create content for your blog, social media, website, and more. It's fast & easy.

Recommended by SEMPlaza as the Best Content Optimization Tool in 2023.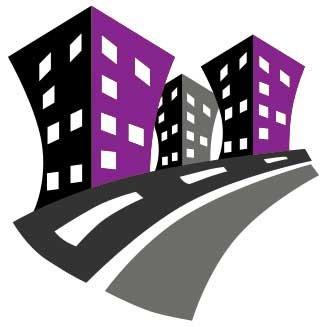 Behind SEMPlaza is a team of SEM specialists working hard to put together one of the best internet marketing tools directory. Additionally they offer free search engine marketing tips and strategies in all digital marketing fields: SEO, PPC advertising, social media marketing, email & push marketing, retail & affiliate marketing.

Posted on: May 24, 2020