BrowserStack Review – The Only Cross-Browser Testing App You Need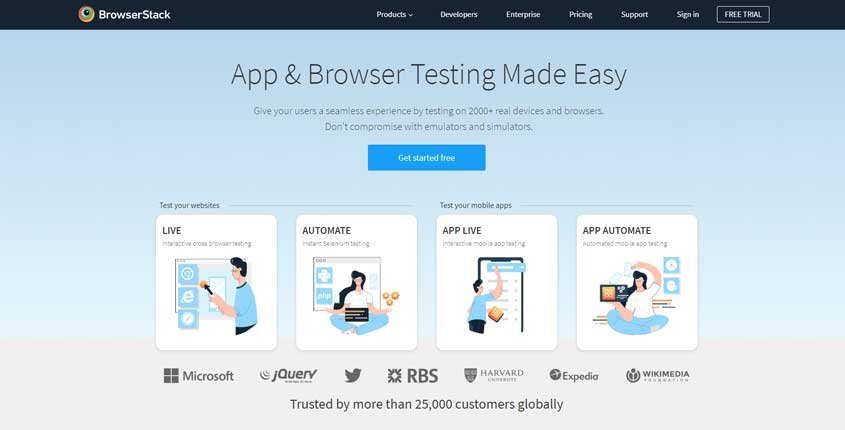 ---
What is BrowserStack?
BrowserStack is one of the most reliable online platforms for apps and cross-browser testing. This tool gives your users a seamless experience by testing on 2000+ real devices and browsers to make sure your website or app works perfectly.
How To Use BrowserStack? (Features)
Live website testing – These features enable its user to live test the particular website. This means that by using this feature you will be able to test your website across different browsers and platforms. This is a very interactive and significant feature offered by BrowserStack.
Automate Website – By using this feature you will be able to automate your website by using only very easy and suitable means. BrowserStack will suggest some techniques that will help you make your website interactive and easier to use.
App Live Testing – This is an integrated feature that this tool offers. Just as the testing feature of the website, BrowserStack comes back with an additional feature, that helps you check the properties and characteristics of your website. All kinds of requirements are fulfilled and many different bugs are removed.
App Automate – Just as the website automates function. This feature helps a mobile developer to find and resolve issues in a particular mobile app. By using this feature, you will be able to make your mobile app even more interactive and lively. This feature may help you increase the hit points and the user experience rating of your mobile app.
Pros (Advantages)
Works out of the box – This kind of helps the user to be at par with the rest of the customers as there are Zero setups and zero maintenance needed to speed up the releases.
Comprehensive coverage – Through this feature, you will be able to have comprehensive access to all kinds of web browsers and other kinds of iOS and Android devices.
Uncompromising Security – This is a rare feature that almost none of the tools offer. By using this tool you can be easily secured at making and testing your websites.
Cons (Disadvantages)
Pricing – The pricing of this tool is a little bit higher than the other online tools that offer the same services. But the free trial helps you decide whether to buy the full version or not.
Sometimes works slow – It has been experienced by various users that this tool sometimes works slow. Overall the tool doesn't have a speed problem, but it certainly happens a few times when you use it.
Response time – The response times of the results are a few times random and can be unpredictable. This problem sometimes affects testing.
How Does BrowserStack Work? (Conclusion)
Overall the tool is just magnificent and performs all its functions in a very efficient manner. This tool makes sure that no kind of platform-specific errors is missed. It saves time and money. We can use BrowserStack for both automated regression tests and manual tests. And it is very good for a tester to test issues before releasing any product.
How Much It Costs? (Pricing)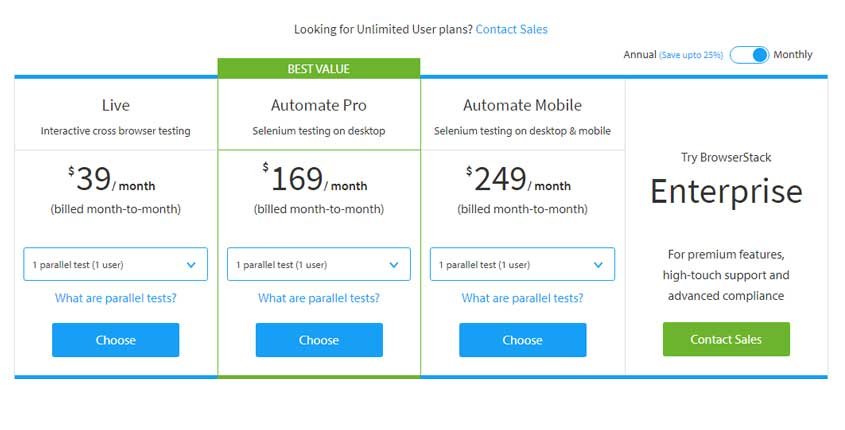 Try It Now!
---
Best Paid & Free Alternatives (Similar Tools)
Use artificial intelligence to create content for your blog, social media, website, and more. It's fast & easy.

Recommended by SEMPlaza as the Best Content Optimization Tool in 2023.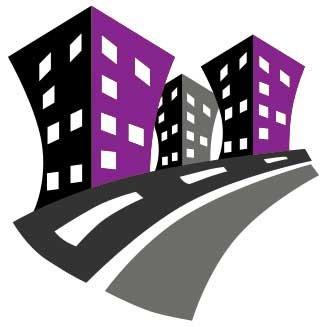 Behind SEMPlaza is a team of SEM specialists working hard to put together one of the best internet marketing tools directory. Additionally they offer free search engine marketing tips and strategies in all digital marketing fields: SEO, PPC advertising, social media marketing, email & push marketing, retail & affiliate marketing.

Posted on: May 30, 2020